Fixed Implant Teeth in 3 Days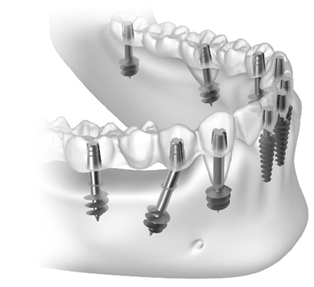 Basal Implantology best for immediate loading implant teeth
" Basal implantology has enabled us to provide permanent fixed implant teeth in just 3 days of implant placement. Basal (cortical) bone offers excellent stability to implants for immediate teeth placement."
Fixed implant teeth with titanium dental implants permanently. A dental implant is the most comfortable and successful treatment to replace a missing single tooth or multiple teeth permanently. Tooth replacement methods are common in dentistry all over the world for ages. After the discovery of the fusion of titanium metal to bone by Dr. Branemark in 1952, revolutionary techniques were practiced to replace teeth with dental implants. over decades dental implants techniques had improved to provide 98% successful tooth replacement.
How Basal Implants are Different?
Single Piece Titanium Implants
Basal implants are the same as conventional implants, made of titanium. Only the difference is they are single-piece implants and are usually smooth surfaces. There is no special treated surface is used in basal implants. 
Bent at neck for Prosthetic stability
Single-piece basal implants have a distinct ability so that they can be bent at the neck portion. This bending is a very essential feature when the implant head is adjusted for proper prosthetic outcomes. 
Orthopedic Principle
Engagement of cortical bone with fixture screws is always performed for a long time in Orthopedic surgeries. The same principle of strong cortical and bi-cortical engagement is utilized in basal implantology. This cortical engagement makes the basal implant more stable and ready to bear biting pressure. 
Avoid Peri-implantitis
A smooth surface of titanium in basal implants helps to avoid infections near gum surfaces ( Peri-implantitis), a common problem that occurs with conventional implants. The peri-implantitis can lead to implant failure. 
Safe in Medically Compromised Patients
Basal implants are very safe in medically compromised patients having severe Diabetes, High Blood Pressure, Cardiac Issues, severe periodontal problems, heavy smokers, patients having jaw bone discrepancies, etc. 
Flapless Atraumatic Surgical Placement
A flapless implant placement surgery helps to faster recovery and better healing of soft tissues. Even severe diabetic patients have a quick and faster recovery. 
Immediate Loading Permanent Teeth
Removal of damaged teeth with immediate placement of basal implants aids in providing immediate loading dental crowns in just 72 hours of implant placement. Fixed permanent crowns help restore normal chewing in a patient. 
Thin & Long Implant Shaft
A thin and long implant shaft helps to place basal implants deep in the jaw bone and engage strong cortical bone. 
Basal Dental Implant Companies in India
We provide the best basal dental implants in India from globally reputed companies. There are relatively fewer manufacturing companies involved in making basal implants. In India, some of the companies providing basal implants are – Gen-XT, Simpladent, Norris Medical, etc.
Fixed Implant Teeth Procedures
There are multiple procedures developed to place dental implants into the jaw bone. These procedures utilize specific methods that provide the best implant teeth replacement in difficult cases. The goal of every method is to provide the best-fixed teeth replacement to every patient.
The cost of a dental implant tooth replacement varies with the brand of implants, the expertise of the implant surgeons, and the location of the dental clinic where the implant procedure is carried out. You can get implants in almost all parts of Indian cities and small towns. Usually, tooth implant cost in India ranges between Rs. 20000 to Rs. 45000 for conventional dental implant replacement. Implant Crown and adjunctive procedures are charged extra. The dental implant procedure is performed by an experienced implantologist and about 98% success rate is observed with an implanted tooth.
Fixed Teeth Implants – FAQ's
Am I a candidate for Dental Implants?
Any healthy person with good general health, the adequate jaw bone can undergo dental implant tooth replacement. A person having medical conditions like Diabetes, Chronic Gum disease, Cardiac issues, are to be evaluated individually by an experienced implantologist for a dental implant procedure. A person having inadequate jaw bone can get dental implant tooth replacement with advanced surgical procedures like bone augmentation procedures, sinus lift surgery, ridge split procedure, etc. Also, there are advanced dental implant procedures like basal implants that are helpful in providing dental implant teeth replacement without extra surgical procedures.
Is dental implant surgery painful?
Risks in Dental Implant Surgery
The risk involved with dental implant treatment is almost the same as with any surgical procedure. Proper evaluation of the medical condition of the patient, bleeding disorders, infections, allergies, are reviewed and accessed before implant surgery to avoid any further complications. Although the success rate for dental implants is high failures and complications may occur due to improper placement of an implant, fracture of implant, damage to surrounding structures during surgery, uncontrolled infection, poor bone quantity, quality, or healing. Failures of the implant can be attempted again after proper healing by an experienced implantologist.