All-On-4 Implants in Gurgaon
All-On-4 implants in Gurgaon for easy, economical, and immediate full mouth teeth replacement. All-On-4 and All-On-6 implant placement method is introduced to give full mouth replacement with very few implants in each arch. Usually, All-On-6 implants are utilized to provide upper jaw replacement and All-On-4 implants for replacement of the lower jaw. At our clinic, we provide you best All-On-4 implant procedure by one of the best implant surgeons in India. Many patients have difficulties getting fixed implant teeth due to severe bone loss in the back region of the jaws. These patients can get fixed implant teeth with All-On-4 and All-On-6 implant procedures. Some other procedures are also available for such cases as bone grafting, sinus lift surgery, ridge split surgery, etc. But all these surgical procedures require a specially trained implant surgeon and added cost of implant surgery.
What is the All-On-4 Implant Method?
With the increased use of vertical implants to restore missing teeth, there arrived a problem for patients having severe bone loss at the back of the jaw. The reduced vertical bone makes the placement of vertical implants difficult. In 1990 the immediate placement and loading of the dental implant were established. And since then Nobel Biocare ( Implant manufacturer) started working with Dr. Paulo Malo to develop the All-On-4 implant technique. In 1998 Dr. Paulo Malo did the first All-On-4 implant case and established the technique.
The all-On-4 implant technique uses two anterior implants placed in front of the jaw maxilla or mandible. In the front area of the jaw, the bone is firm. The other two implants at the back of the jaw are placed at an angle towards the front. This way there is no utilization of the back jaw where vertical bone height is less. Over these four implants, a dental bridge or a denture is fixed providing 10 to 14 teeth per jaw. This way All-On-4 implants make easy and economical replacement of full mouth.
Advantages of All-On-4 Impalnts
Economical full mouth replacement
No Bone grafting, No Sinus lift
Immediate Loading teeth
Start eating within 7 days
Functional & Aesthetic Teeth
Are Dental Implants for Everyone?
Any healthy person with good general health, the adequate jaw bone can undergo dental implant tooth replacement. A person having medical conditions like Diabetes, Chronic Gum disease, and Cardiac issues, is to be evaluated individually by an experienced implantologist for a dental implant procedure. A person having inadequate jaw bone can get dental implant tooth replacement with advanced surgical procedures like bone augmentation procedures, sinus lift surgery, ridge split procedure, etc. Also, there are advanced dental implant procedures like
basal implantology
that help provide dental implant teeth replacement without extra surgical procedures.
Risk and complications with Dental Implants
The risk involved with dental implant treatment is almost the same as with any surgical procedure. Proper evaluation of the medical condition of patient, bleeding disorders, infections, allergies, are reviewed and accessed before implant surgery to avoid any further complications. Although the success rate for dental implants is high failures and complications may occur due to improper placement of an implant, fracture of implant, damage to surrounding structures during surgery, uncontrolled infection, poor bone quantity, quality, or healing. Failures of the implant can be attempted again after proper healing by an experienced implantologist.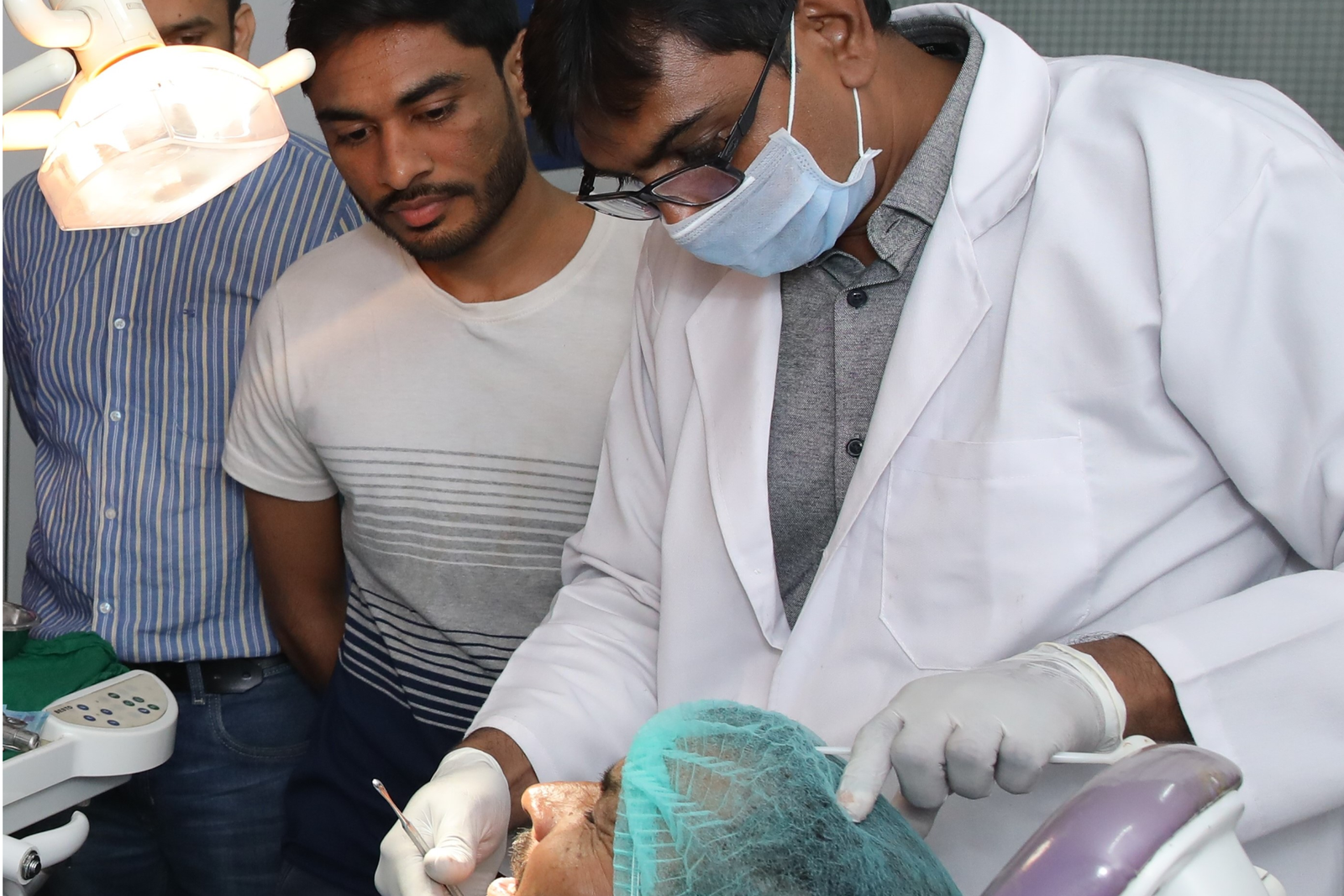 Dental Implant Course
Dental implant courses for General dentists and dental specialists. Learn the art and science of oral implantology from experts in India. Best Practical dental implant training.